*NEWS FLASH*-AMBER ALERT Is Activated In Indiana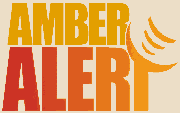 Parents protect your children: Resources are available to help keep children safe and provide guidance on the issues of missing children and exploited children. You can visit the links or call 1-800-The Lost (1-800-843-5678 ) for more information. All this information is found on the web page for missing & exploited children log onto http://www.ncmec.org click on "How can I help" found on the main page.
*Listen to Amber Alert! (courtesy of ncmec)
*Thanks to L.U.L.A.C. Whiting Council #5019 President, Angie Oria for this submission.
If you'd like to see something added to this site, contact me!


Home | Beauty | Culture | Family Services | Health | Money
Women's Services | Links