Family Services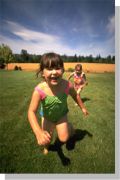 Parent Soup
[10-16-03]
Parents if you like Soup then you should log onto the Parent Soup site at http://www.parentsoup.com This site has so many different topics you can click on to help you with activities and fun topics with your children. I went to the crafts, games & Parties section and there I pulled up the art projects. I looked up how to make a collage with your children, this was such an easy project to do and it sure keeps the kids busy.
There also is information on Child Care, Kids & Money, Working Mothers, Behavior Problems, Education, Drugs, Finding names for your Baby.
Another section that may be helpful is on "Parents solving Problems" such as Homework, ADD/ADHD, Sibling Rivalry, Bedtime battles, Temper Tantrums and Body image.
top

Home | Beauty | Culture | Family Services | Health | Money
Women's Services | Links